Experts in fire safety equipment & Extinguisher hire
1st Defense specialise in affordable fire protection solutions for short- or long-term extinguisher hire for any business or event in any area of the UK, it doesn't matter how many extinguishers you need or for how long, we have a large hire fleet ready for you.  Whether it's a music concert/festival, sporting event, summer fair, fashion show, small village fete or agricultural show, extinguisher hire is the most cost-effective option. Alongside our fire extinguisher rental services, we can also supply other associated fire protection equipment such as fire blankets, signs, trolleys and stands to meet the requirements of your event fire risk assessment. 
Fire extinguishers are a requirement at temporary events. Under the Regulatory Reform (Fire Safety) Order 2005, if there are going to be crowds in attendance then a full fire risk assessment must be carried out and correct safety equipment put in place. 1st Defense Fire and Rescue Services will work with you to carry out a fire risk assessment for your event, identify the risks and controls required, then assist you in selecting the correct number and type of fire extinguishers to ensure the safety of your guests and your regulatory compliance. 
We offer a wide range of extinguishers in a variety of types and sizes.  
Extinguisher Types & Sizes 
Water  3ltr, 6ltr, 9ltr 
Foam   3ltr, 6ltr, 9ltr 
Co2   2kg, 5kg 
Dry Powder   3kg, 6kg,9kg 
Wet Chemical  3ltr, 6ltr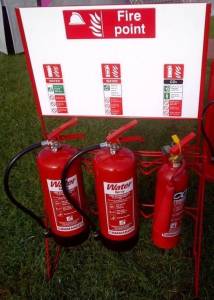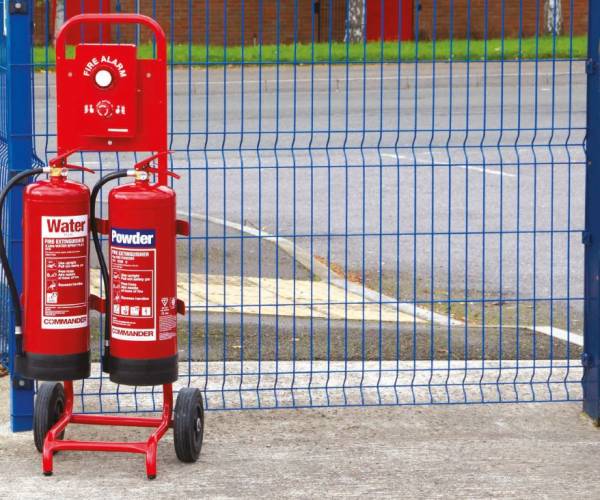 If you are concerned about how red extinguishers will look within your carefully designed event space, then please look to our bespoke range for polished silver finish fire extinguishers. 
All our extinguishers are British Standard Kitemarked and CE marked, fully serviced and commissioned to BS 5306 by our qualified engineers before delivery.  This ensures the highest standard of quality and safety. When you hire fire extinguishers from 1st Defense our engineers will deliver them to you, distribute the equipment correctly around your site and collect once the event has finished. 
1st Defense Fire & Rescue Services also offer wheeled units for Aviation and Motor Sport use. 
Please contact us to talk through your specific event requirements, we are the experts and are here to help!